One of the main places I shop is Costco. i LOVE Costco...it has food AND clothes AND gifts AND fun products! i mainly shop there because, with a large family, i can get better deals on the foods that we eat a lot of, like eggs, cheese, milk, bread, and veggies. it's also across the street from us, so we often go as a whole family for fun...because it's fun to try samples and shop at the same time. lately i have noticed that Costco has been carrying more and more of the products i like, more healthy options, and especially lots of organic choices.
i thought i would share some of the foods we frequently purchase at Costco. for me, i like that Costco has a lot of pre made food options. we are a very busy family, and i don't have a lot of time to spend on fancy meals....but i like good food. when i find options i can prepare quickly, and my family likes...i stock up on them to have on hand. i would love to know what your favorite Costco products your family has....i am always looking for great ideas for lunches and quick dinners.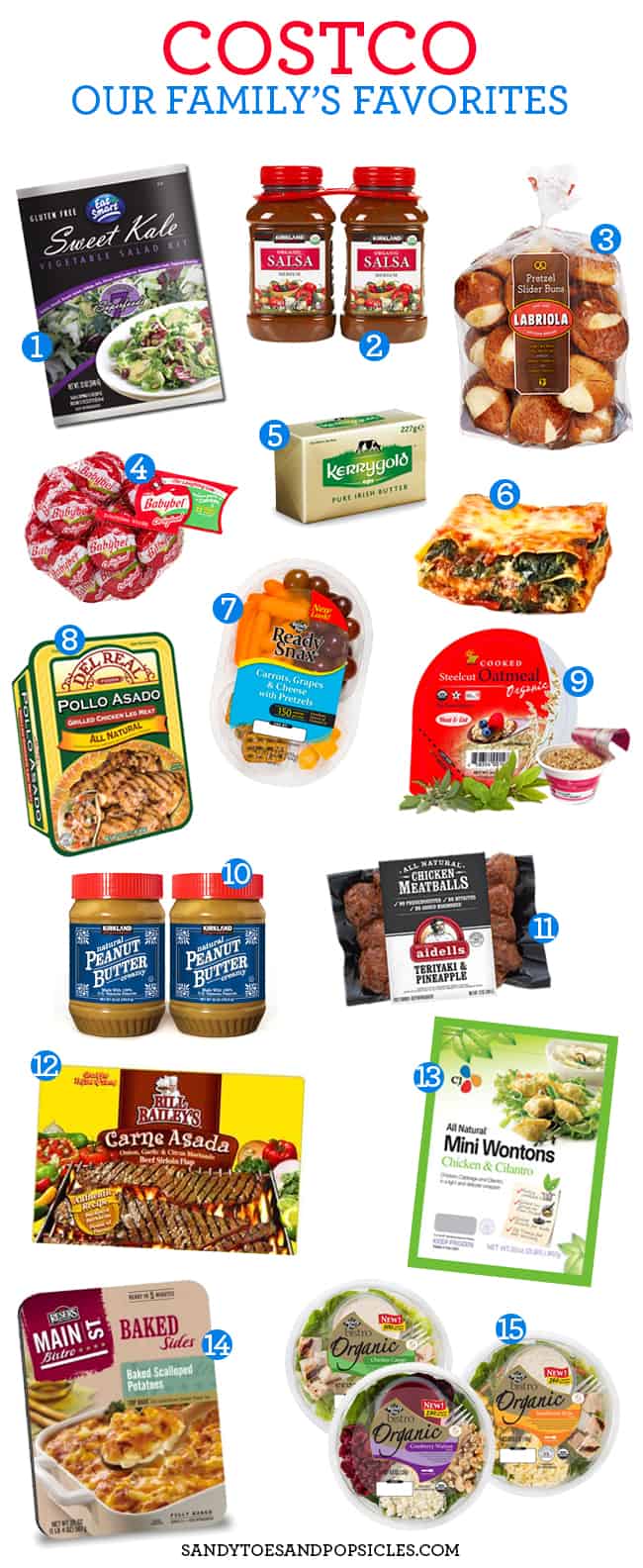 1. Sweet Kale Vegetable Salad Kit - Eat Smart's new Gourmet Selections Vegetable Salad Kits are restaurant-inspired salads that are nutritious AND packed with great taste. The Sweet Kale Salad creates a harmony between the bitter kale and the sweetness of cranberries and poppyseed dressing. This unique blend of vegetables is topped with roasted pumpkin seeds for a zesty crunch. The Sweet Kale Salad is nutrient-dense, containing seven superfoods and offers delicious flavors
2. Kirkland Organic Salsa - this is our favorite everyday salsa. it's very mild, which is kid-friendly, and it tastes good in a lot of the dishes i make. Costco doesn't always carry it, but i found it the other day and was very happy.
3. Pretzel Rolls - my boys love these...just to snack on, in their lunches, and with mini hamburger patties. they a nice a soft and even better than regular pretzels.
4.  Mini Baby Bell - these are great as a quick snack or to pop into lunches. i like them, as they curb my appetite in the afternoons.
5. Kerry Gold Butter - our most favorite butter. we use this for toast and bread...it is so much better than the average butter.
6. Frankly Fresh Turkey & Spinach Lasagna - this lasagna is so good, and i love that it is made with turkey (you really can't tell the difference from beef), and it is really easy to make. i love to have it on hand for those days when i need to get dinner out quick. i usually put it into the microwave for around 8 minutes and then finish it off in the oven to get that crisp cheese on top. everyone will eat it...so that's a win.
7. Ready Snax - Veggie, Cheese & Pretzel - my youngest is super picky and always wants treats. i found that he will eat this whole snack...and i like it has a variety of fruit, cheese, pretzels and carrots. because if it was up to him, he would just eat bagels all day long.
8. Del Real Pollo Asada - Del Real Foods' Pollo Asado is as flavorful as it is versatile. the grilled chicken is seasoned with a traditional blend of spices and marinated in a zesty citrus blend before being cooked to perfection.it is also great to use in recipes and salads.
9. Minsley Steelcut Oatmeal - i just recently found this, and i am hooked. it makes a great breakfast that keeps me satisfied until lunch.
10. Kirkland Natural Peanut Butter - i love the natural taste...and the price is great.
11. Aidell's Teriyaki & Pineapple Chicken Meatballs - these slightly sweet meatballs crafted from juicy chicken and infused with Asian flavor: ginger, soy and bits of real pineapple. we usually eat them with veggie stir fry and rice or a salad and the scalloped potatoes i included below. easy is the key since they a precooked.
12. CJ Cilantro & Chicken Fully Cooked Wontons - i crave these all the time. we pair them with veggies and rice. inspired by the popular Korean dumpling "Mandu," CJ Mini Wontons can be prepared in soup or boiled (the traditional way) or pan-fried to give the wrapper an irresistibly crispy crunch. kids love the unique bite size too. the best part is that they are fully cooked so they can be prepared in a matter of minutes, also great on busy days.
13. Bill Bailey's Carne Asada - i like this meat because my husband can grill it, and it's ready in minutes. it tastes great on a roll, on tacos or even with rice and veggies.
14. Main St. Bistro Baked Scalloped Potatoes - all may boys love these cheesy potatoes...so i often get them to have on hand. we like them with trip-tip or the chicken meatballs i included above.
15. Bistro Organic Salad Bowls - these are my healthy and quick lunch go-to's, and hope to incorporate them more into my lifestyle in my quest to eat healthier.
these are just a few of items that Costco carries that i like to buy. i also like to get myself fresh flowers and buy all my baking staples like flour and sugar there. i do buy some of my fruit at Costco, but the big packs don't always get finished by our family. shampoo, soaps and vitamins are also a great value. i rarely buy cereal or crackers at Costco, because i tend to find better prices for ties like those at the regular supermarket.
what are your favorite Costco finds?