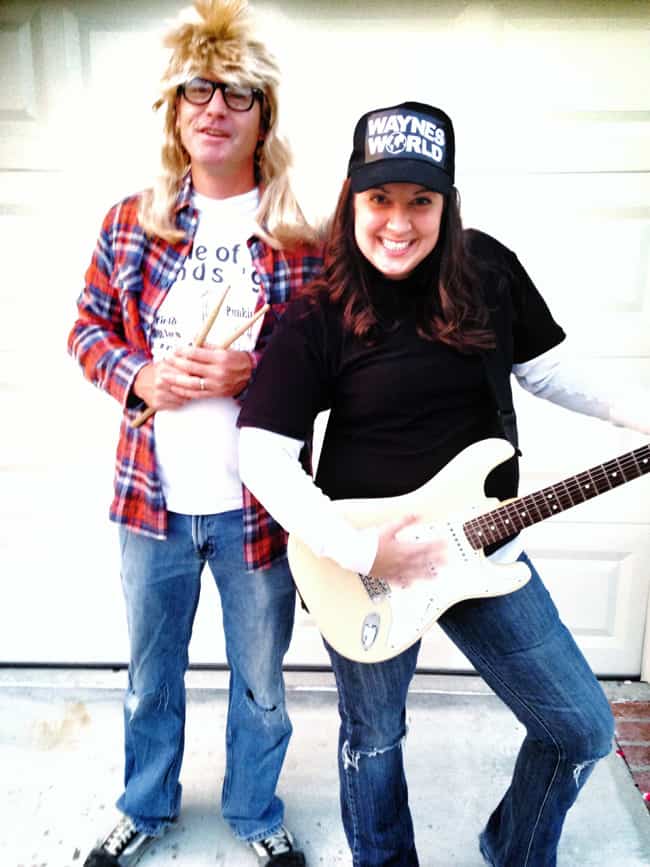 hey!
it's Halloween. hope you are having a spooky fun day. i'll be busy running around doing the mom thing. school parties, house cleaning, spooky dinner preparing, Halloween costume locating and candy buying (since my kids already ate the stash i bought…geesh) are all on my lists of things to do today. but i wanted to take a second to share my Halloween costume with you.
i already shared about my boys costumes over at The Rockin' Boys Club a few weeks ago. and now that Halloween is a month long celebration…or at least it seems like it, they have really gotten some use out of them. they have worn their costumes so many times i have lost count. it has been an easy feat getting them ready for all the Halloween parties we have been invited to.
but last weekend, the entire family was to go to a Halloween Party. i only sometimes dress up, and when i do, it always ends up being fun. i hadn't planned on dressing up this year, but last minute the hubby and i threw these Wayne's World costumes together. they were a hit and we won funniest costumes, which is sort of ironic since these are clothes out of our own closets. the only thing we bought was the Garth wig, which was actually and hillbilly mullet wig. i had to style and cut it a few inches shorter. this costume duo was super easy…i guess i make a great dude. i am glad we did them because it was so much fun to make every remember a long lost beloved movie. i guess everyone loves the fun if the 80's. the only thing is, i now feel really old. NONE of the kids under 18 even knew who Wayne'w World was. hilarious…and such a shame.
anyways, i just wanted to pop in a say…HAPPY HALLOWEEN! stay safe, have fun, party on and have and excellent Halloween.