I have partnered with etnies to bring you this post.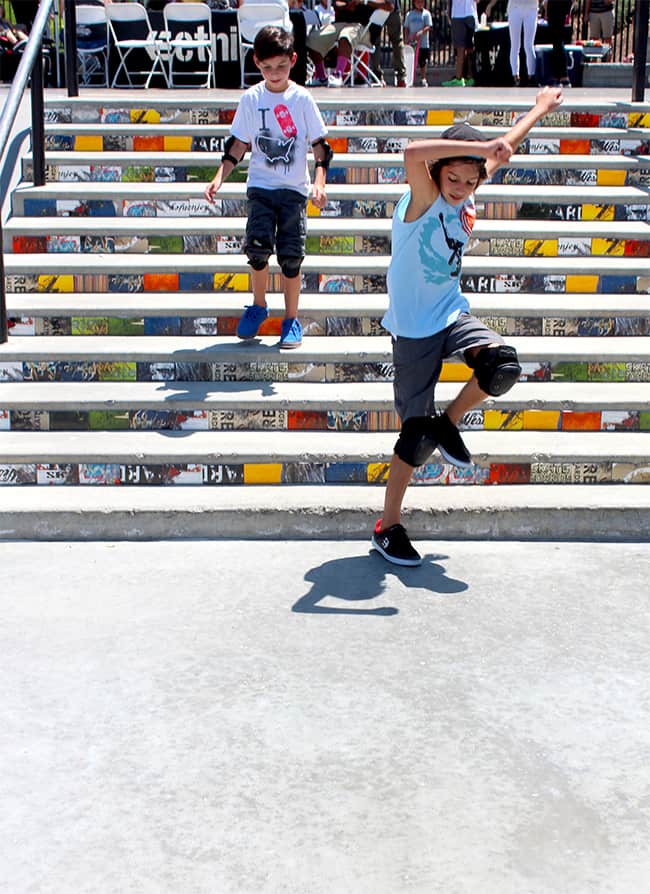 if you have been a reader of Popsicle Blog for a while, then you probably know how much we love etnies over here. from cool crib shoes for the baby, to toddler and big kid shoes – etnies Kids has so many styles of adorable, and durable, shoes to choose from. we LOVE etnies for this, BUT there is so much more that we love about this brand. etnies goes way beyond cool style!
Giving back is at the core of etnies culture. did you know that etnies donates thousands of shoes to at-risk children and the homeless on an annual basis? how awesome is that!
plus etnies is always helping our very own community of Orange County and Southern California.
• this December, they will host their annual etnies Holiday Festival, where 500 at-risk kids in Orange County are treated to a day of skating demos by pros, Santa (on a skateboard, of course!) and a the gift of brand new etnies shoes.
• they will donate 2,000 pairs of shoes to the homeless at the Los Angeles Mission – every year!
• they have created and built the etnies Skatepark of Lake Forest as a resource for the community
• their impact is felt around the globe. etnies believes "The Planet is Our Playground"
• Happy Feet, Happy Forests – For every pair of etnies Kids shoes sold, a tree will be planted. etnies' "Buy a Shoe, Plant a Tree" reforestation program helps kids see that their happy feet means a happy forest.
and that's not all....
etnies wants to partner with you this holiday season.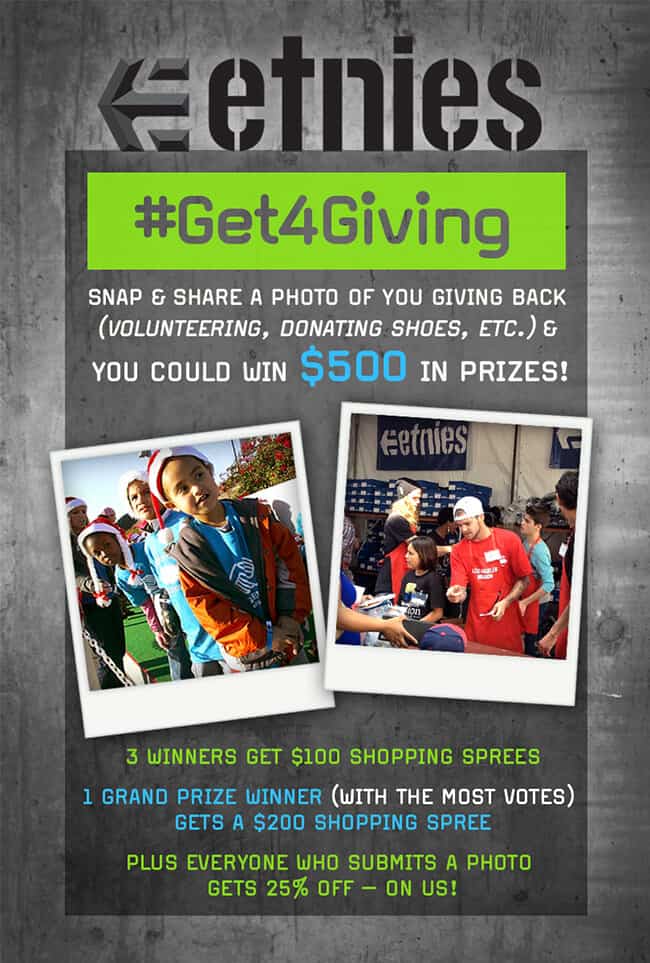 etnies would love to reward YOU for giving back! all you have to do is  snap & share a pic of you giving back to your community or your favorite cause (such as volunteering, donating clothes, shoes, time, etc.) and you could win $500 in prizes! to enter, share your photo on Facebook, Twitter, or Instagram with the hashtag #get4giving (*it must include hashtag to count) and it will automatically upload to the "Get 4 Giving" gallery. or you can upload it here. the picture with the most votes will win the $200 grand prize!  (contest run December 5, 2014 through January 5, 2015).