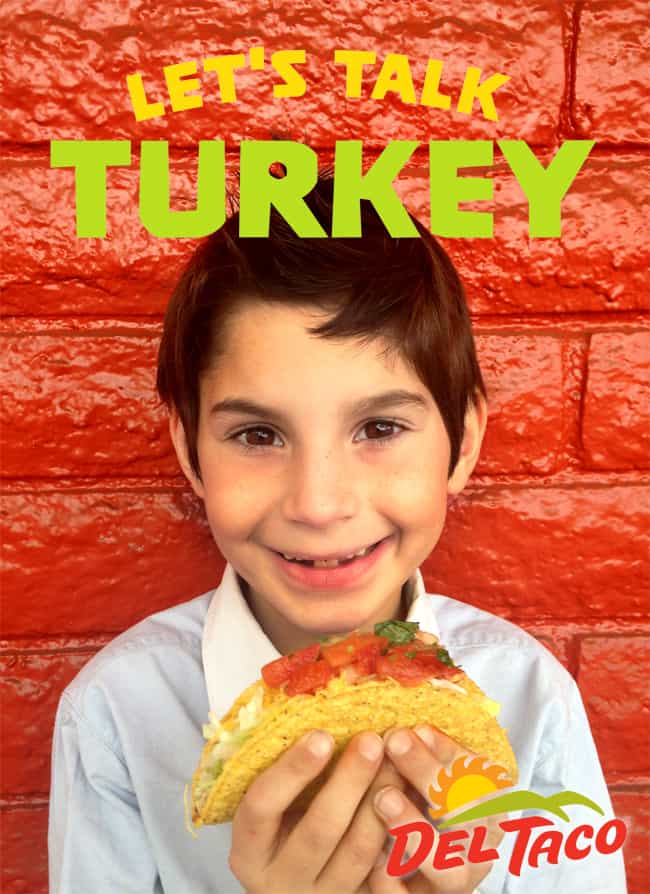 This is a sponsored post on behalf of Del Taco.
you've heard me talk about my love for Del Taco before, it is still one of our families favorite fast food eats. and although my all-time favorite menu item is their half-pound red burrito, i still like to change things up a bit when we dine there. which is why i was excited to hear that Del Taco added turkey to there menu.
last month, the all-new Turkey Tacos, made their way to Del Taco menus, making them the first Mexican fast food chain to offer ground turkey as a protein option. Del Taco's Turkey Tacos feature lean, seasoned ground turkey that has 33 percent less fat than its seasoned beef yet offers the same craveable flavor. IT"S TRUE….these Turkey Tacos taste almost like the original beef tacos. they are super good, and what's even better about them is that each Turkey Taco has only 150 calories. not in the mood for a taco? well you're in luck because Del Taco is also offering a Turkey CrunchTada Tostada, an extension of their popular CrunchTada product line.
these new Turkey Tacos are priced at $1.29, served in a crunchy corn or warm flour tortilla with freshly grated cheddar cheese, crisp lettuce and pico de gallo, made fresh daily at each Del Taco location. a great deal. and Turkey Taco Meals, priced at $5, include two tacos, chips with fresh pico de gallo salsa and a drink. if your meal is paired with a diet drink or water, the Turkey Taco Meal has only 430 calories. the product extends Del Taco's line of "UnFreshing Believable," high quality, great value menu selections.
here are a few facts that keep us coming to Del Taco…the food is made to order, the freshly made pico de gallo, the freshly-grated cheddar cheese and best of all, the lard-free beans slow-cooked from scratch.

{disclosure: i was compensated with a gift card to try Del Taco's new Turkey Tacos, and Del Taco provided the gift card for the giveaway. all thoughts and opinions are my own.}