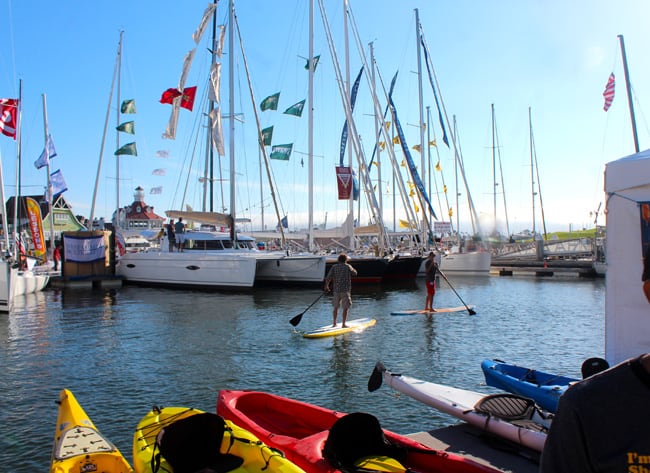 you're invited to Strictly Sail Long Beach Boat Show!  it's the largest sailing event in Southern California, featuring more than 60 sailboats of all shapes and sizes, hundreds of sailing accessories and the largest series of educational seminars in the region.  there will also be a variety of attractions for sailors of all ages....there's no better place for the family to discover sailing!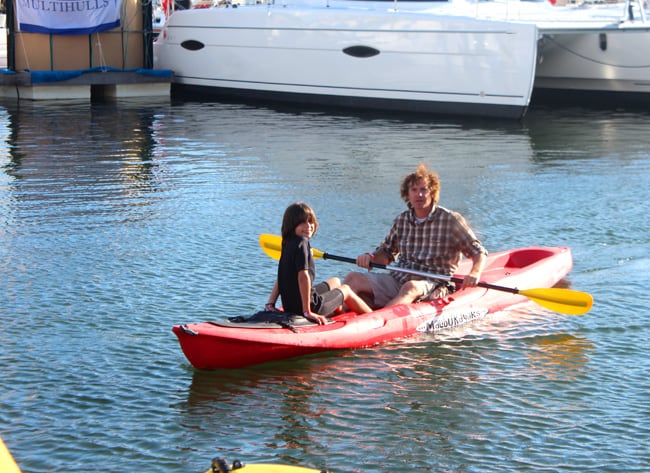 during this weekend event, sailors of all ages can experience the fun of sailing....and more!  all weekend long, Strictly Sail Long Beach will offer some fun and interactive opportunities for the entire family! we went to the show last year and enjoyed the ocean air, seeing the big sailboats, and the hubby especially enjoyed trying out paddle boarding.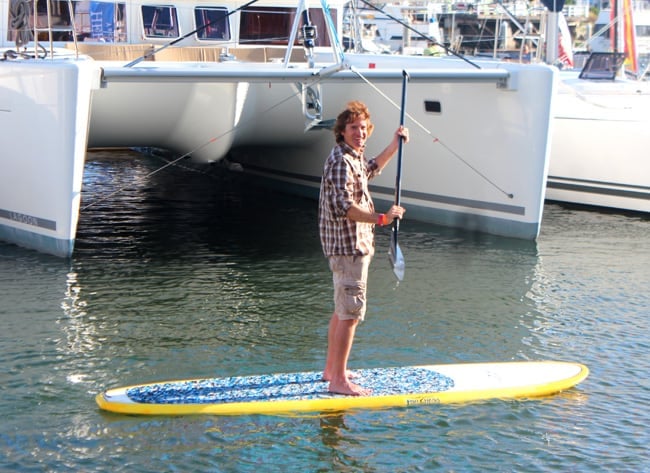 while at the show, here's some things you should try.....
• Try It Cove!  where kids and adults 10+ can learn how to Stand Up Paddleboard, Kayak, Canoe and sail in Rainbow Harbor. make sure to bring your wetsuit or bathing suit and a towel cause you could get wet.
• Tour a variety of sailboats and luxury cruisers docked in the Rainbow Harbor
• Take a cruise around Rainbow Harbor in "Pinky" the honorary pink sailboat – inspired by Susan G. Komen "Race for the Cure"
• NEW! Kids' activities Create a Boat Toy Boat Building & Remote Control Boat Sailing. Toy boat building gives your child a chance to build a nautical masterpiece—a one-of-a-kind vessel using pieces of wood, a little glue, and a lot of imagination.
• Sailing Simulator what's it like to Captain a boat? you can "sail" without leaving dry land.
• Seminars and Clinics you can learn Simple Sailing techniques or master one's sailing skills
• plus, dozens of exhibitors!
wanna go?  here's the info....
Thursday, October 24, 2012 • 12:00 p.m. - 7:00 p.m.
Friday, October 25, 2012 • 12:00 p.m. - 7:00 p.m.
Saturday, October 26, 2012 • 10:00 a.m. - 7:00 p.m.
Sunday, October 27, 2012  • 10:00 a.m. - 6:00 p.m.
located at Shoreline Village at Rainbow Harbor
$10 for adults
youth 15 and younger accompanied by an adult & active military with ID are FREE
(tickets can be purchased at the box office. cash only.)
 for more information, call (714) 633-7581