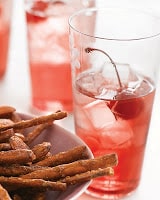 if you want to celebrate the New Year in style, you have to have fun food. i live for appetizers, i am a chips and dip junkie. and you can not forget festive drinks. i for one have to have my sparkling apple cider. and this year, instead of soda for the kids, i thought it would be fun to make these kiddie mocktails. not just for the kiddies, but for me too!
triple red Shirley Temple
1 oz. grenadine syrup
6 oz. cranberry juice
4 oz. cranberry ginger ale
1 paper umbrella
3 maraschino cherries
Orange slice
Ice (optional)

• mix the syrup, cranberry juice and ginger ale in a tall glass. open the umbrella and slide the three cherries onto the handle. balance the umbrella on the glass rim in front of the orange slice.
4 oz. seltzer
6 oz. orange juice
1/2 oz. grenadine syrup
1 orange slice
1 lemon slice
1 maraschino cherry
Plastic toothpick

• in a tall glass, mix the seltzer and orange juice. slowly pour the grenadine into the center of the glass, allowing the syrup to settle on the bottom (thanks to its greater density). garnish with the orange, lemon and cherry, stacked and skewered with the toothpick.
4 oz. papaya juice
2 oz. pineapple juice
4 oz. ginger ale
Lemon and lime peel
1 or 2 slices of star fruit
Ice (optional)

• in a tall glass, mix the papaya and pineapple juices and the ginger ale. for the garnish, use a small, star-shaped cookie cutter to cut star shapes from the lemon and lime peels. Slide the slices of star fruit onto the glass rim.