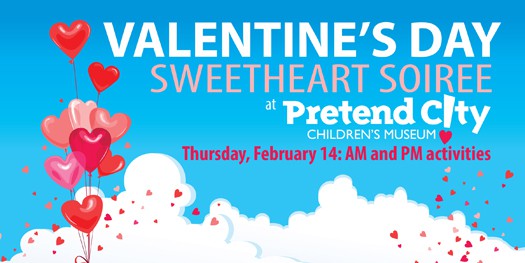 join Pretend City for a sweetheart soiree of lessons on love this Thursday, February 14th! it's a Valentine's Day Sweetheart Soiree – through fun activities that highlight words like "cherish," "heartfelt," "caring," and "tenderness," your child will learn different ways to share their love with others.
• Sensational Story Time: Woof: A Love Story. Good communication is needed for any true love connection. That's the lesson learned in this absolutely adorable tale, and as in any good romance, love finds a way. Make sure your children's love finds its way as you help them write and create their own special Valentine's Day card.
•  "Good to Go" Game: Hugs & Kisses – This is a fun Valentine's Day twist on the classic game of Simon Says that will engage your child's listening and movement skills.
•  Smart Art: Edible Friendship Bracelet – Learn about friendship bracelets as a symbol of love and caring. Then, create a one-of-a-kind bracelet for a friend.