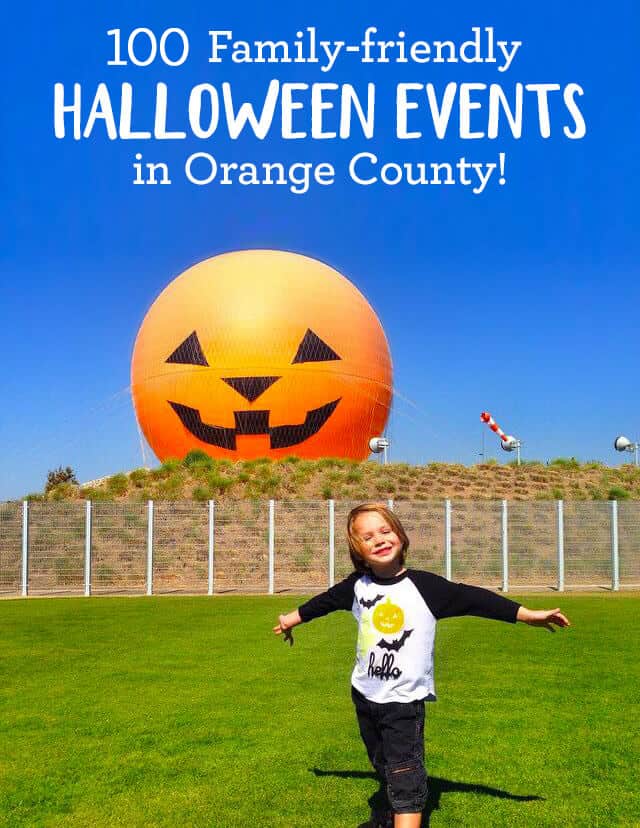 Just like that, the Halloween season is about to arrive in Orange County!  Very soon, Halloween events will be popping up all over Southern California. Here is a list of over 100 Orange County Halloween Events for Kids and Families…most of which are kid-friendly or family-friendly. and all of them are scheduled around the OC and SoCal this Halloween season.
Get your calendar out and pick out the ones that look like the most fun for your family and make this Halloween season one to remember! (Be sure to check back here, as more events will be added to the list as they are announced.)
2019 Orange County Halloween Events for Kids and Families
Knott's Spooky Farm
Every Weekend in October  |  Knott's Camp Snoopy and Ghost Town
Enjoy the spooktacular Halloween season at Knott's Spooky Farm, a family-friendly Halloween celebration geared for kids. Little ghouls can trick-or-treat through Ghost Town to collect Halloween treats. Treat bags will be given to kids ages 3 – 11 from opening until 4:30pm. A fun Halloween-themed show "Monsters are Coming" at the Camp Snoopy Theater plays hosts a daily costume contest for kids in costume. The Halloween Hootenanny returns as The Timber Mountain Log Ride transforms with spooky but family-friendly surprises. The fall daytime Seasons of Fun event is included with regular park admission or your 2019 Season Pass.
Oogie Boogie Bash at Disneyland Resort
September 17, 19, 22, 24, 26 & 29, October 1, 3, 6, 8, 10, 13, 15, 17, 20, 22, 24, 27, 29 & 31  | Disney California Adventure Park
A Disney Halloween Party begins. Once the party starts, you'll be treated to 5 hours of shindig shenanigans—including special Halloween-themed entertainment, attractions, Character Greetings and more. Tickets to this seasonal celebration can sell out, so be sure to book ahead.
Halloween Time at Disneyland
September 6th – October 31st   |   Both Parks at Disneyland Resort
Disneyland Resort and Disney's California Adventure are dressed up for Halloween! Check out the decorations and enjoy special Halloween activities throughout the park.
Howl-O-Ween at Great Wolf Lodge
October 1 – 31  | Great Wolf Lodge Anaheim
Book and stay before October 31, 2019, for a Howl-O-ween to remember! We'll have special events scheduled for you to share with your family including – Trick-Or-Treat Trail, Monster Bash Dance Party, Spooktacular Story Time & more!
Pumpkin Nights
October 10 – November 3 | 5:00 – 10:00pm | Pomona Fairplex
In 2016, a team of passionate artists set out to create a brand-new Halloween experience. At Pumpkin Nights, visitors journey through eight different themed lands, all crafted using over 3,000 hand-carved real and synthetic pumpkins. Now, for the first time ever, we're bringing the Pumpkin Nights experience to Los Angeles!
Fall Fest
October 31 | 6 – 9:00pm  |  Compass Bible Church
Kettle Corn, Churros, Tons of Candy, Coffee, Laser Tag, Pony Rides, Rock Climbing Wall, Giant Ferris Wheel, lots of Game Booths, BBQ'd Hot Dogs & In & Out. The event is free, along with rides, games and candy. There will be small charge for food, so please bring cash (credit cards will be accepted with a small add'l charge). FREE
Spooky Science at Discovery Science Center
Weekends in October  |  Discovery Science Center OC
Giant bugs, creepy crawlers and friendly spooks are all making their way to Discovery Cube for Spooky Science this October. Join us as we explore bugs of all colors and sizes among over-sized exhibit sets and hands-on learning stations. Even the youngest of goblins will enjoy spooky fun while exploring insects like never before.
Boo at the Zoo
October 19, 20, 26 & 27  |  5:30 – 8:00pm  |  Santa Ana Zoo
A "Merry not Scary" family friendly event where everyone is encouraged to come in costume! One of the safest places for children (ages 2-12) to trick-or-treat for Halloween enjoying goodies from TEN Trick-or-Treat Stations throughout the Zoo providing a variety of toys, books, snacks, and candy on the Trick-or-Treat Trail, Entertainment, Animal Presentations, Storytelling, Costume Parade, Ride the "Boofari" Express Train and Carrousel for an additional fee and "Teen Scream" Haunted House (a separate area, included in the price of admission)
Bootastic Halloween Party
October 11, 18, 25 & 31   |  5:30pm |  Adventure City
Halloween Time is right around the corner and for four nights only, Adventure City is hosting a family-friendly Halloween Bash! To ensure that ride wait times are at a minimum, limited special event ticket quantities are available.
Pretend City Trick Or Treat Through The City
October 31 | Pretend City Children's Museum
Pretend City is all treats and no tricks here in the city! Get a start on the festivities by joining us for our special trick-or-treat extravaganza as you stop by our exhibits from some neat giveaways. This party is bound to be a scream!
Costume Week at Pretend City
October 27 – 31 | Pretend City Children's Museum
Black cats and witch's brew, we want to dress up with you! Wear your costume to Pretend City this whole week and receive 25% off your second admission!
The OC Ghostbusters Visit Pretend City
October 26  | Pretend City Children's Museum
We ain't afraid of no ghosts…especially because the Ghostbusters will be here to handle all of the ghouls and goblins that try to impede on our fun. Join us for a spooky good time with hands-on activities and photo-ops.
Frankenstein Friday
October 25 | Pretend City Children's Museum
Have a monster of a time at Pretend City and pay tribute to Mary Shelley's classic fictional character, Frankenstein with these monstrously fun activities. We will be dancing to the Monster Mash, making Frankenprints, and doing some Monster Science and Math Activities. Let's have a monster of a time!
Pageant of the Monsters
October 26, 27, 28, 31  |  6 – 9:30pm  | Laguna Festival of Arts
This Halloween the Festival of Arts and Pageant of the Masters brings a monster of a good time to Laguna Beach! Only returning every five years, the Pageant of the Monsters offers families a frightfully fun time filled with ghoulish tricks and treats. The Pageant's backstage is transformed into a haunted house themed RAIDERS OF THE LOST ART where guests can follow along on a perilous quest to recover treasures from exotic locales across the globe. The Festival of Arts grounds will be filled with Halloween-themed arts and crafts, a reptile zoo, music, and other "spook-tacular" surprises! Not recommended for children under 5.
Creepy Casa Haunted House
October 25, 26 & 27  |  7 – 9:00pm  | Casa Romantica – Have you ever wondered if Casa Romantica is haunted? Yes, it is! CASA CREEPY: HAUNTED HOUSE is one of the most fun and unique haunted houses for families in south Orange County. Walk through 2.5 acres of the most haunted mansion on the block! Werewolves, vampires and ghosts are waiting behind every corner of our historic home, and you can bet on plenty of creepy-crawlies in the gardens.  Period films such as Nosferatu and vintage-themed special effects will 'reel' in the whole family, and candy and refreshments will be available. Suitable for most families with children ages 8 and up. Costumes are encouraged; masks not allowed.
Fall Festival Fun!
September 24  | Pretend City Children's Museum
It's time to fall in love with this change in seasons! The leaves are turning, and the weather is shifting which means there is lots of fun to had here at Pretend City. Let's celebrate with art, games, books and sensory play all focusing on fall, leaves, pumpkins, and gourds!
Tanaka Farms Pumpkin Patch & U-Pick Tours
September 21 – October 31 | Tanaka Farms, Irvine
Tanaka Farms invites you to visit our Pumpkin Patch with all your favorites as well as some new and improved guest experiences for 2019. Make sure to buy a parking pass online if you go on the weekend.
Historic Yorba Cemetery Tour
October 7 | 10:00am  | Woodgate Park, Yorba Linda
enjoy a guided tour through Orange County's oldest private cemetery. FREE
Knott's Scary Farm
September 19 – November 2  |  Knott's Berry Farm
Be prepare to get SCARED!!!! This event is definitely not for the kiddies. send your teenagers or make a date night at this frightfully scary night of terror. You can go through the monster mazes, watch the traditional Hanging Show, and be sure to try out the new interactive Trapped Maze. a pre-show buffet is offered at an additional price.
Aliso Viejo Fall Harvest Festival
October 26 | 10:00am – noon |  Grand Park, Aliso Viejo
Children's Crafts, Carnival Games, Balloon Twisters, DJ Entertainment and more! Wear your costume as you walk through the costume parade. Parade begins at 10:30 am. AVCA will also be hosting a Canned Food Drive with South County Outreach. Bring FIVE canned food items, pet food or make a donation and your child receives a wristband for a pony ride (the only way for your child to ride a pony). Canned food will be distributed by South County Outreach to those in need here in OC. FREE
Halloween Animal Art – Toddler Program
October 4, 9, 15, 17 & 30  |  10:15 a.m.  |  OC Zoo
Come learn about creatures that are associated with Halloween! Class includes hands-on learning, fun crafts, and meeting zoo animals up close!  Ages: 3-4 years old only. Parent must accompany child for duration of program. Fee: $5 per child (includes one adult).
Halloween Animal Art for Ages 5-10
October 19  |  10:15am  |  OC Zoo, Irvine Regional Park, Orange
Come learn about creatures that are associated with Halloween! Class includes hands-on learning, fun crafts, and meeting zoo animals up close!  Ages: 5-10 years old only. Parent must accompany child for duration of program. Fee: $5 per child (includes one adult).
Close Up With Bugs and Spiders
October 5  |  11:00am  |  OC Zoo
Come learn more about bugs and spiders. Class includes hands-on learning, fun crafts or art projects, and meeting zoo animals up close! Ages 5-10 years old only.
Spooky Halloween Train
October 19 |  9:00am – noon  |  Fullerton Train Museum
Calling all ghosts and goblins! Come down to the Fullerton Train Museum between 9 a.m. & noon. Come in your best Halloween costumes and enjoy trick-or-treating, games, a coloring table, and photo opportunities. Beware, our very old rail conductor could be lurking behind a door or closet just ready to hand out treats!
Halloween Zoo-tacular
October 26  |  10:00am – 4:00pm  |  OC Zoo
Join us for Halloween fun at the OC Zoo! Activities include trick-or-treating*, spooky kids crafts, a scavenger hnt*, and fun games! (*children ages 12 & under). The first 100 children (ages 12 & under) in costume will receive a free gift! Come see the zoo animals receive treat-filled pumpkins throughout the day! Reservations are not needed. Activities are free with paid zoo admission