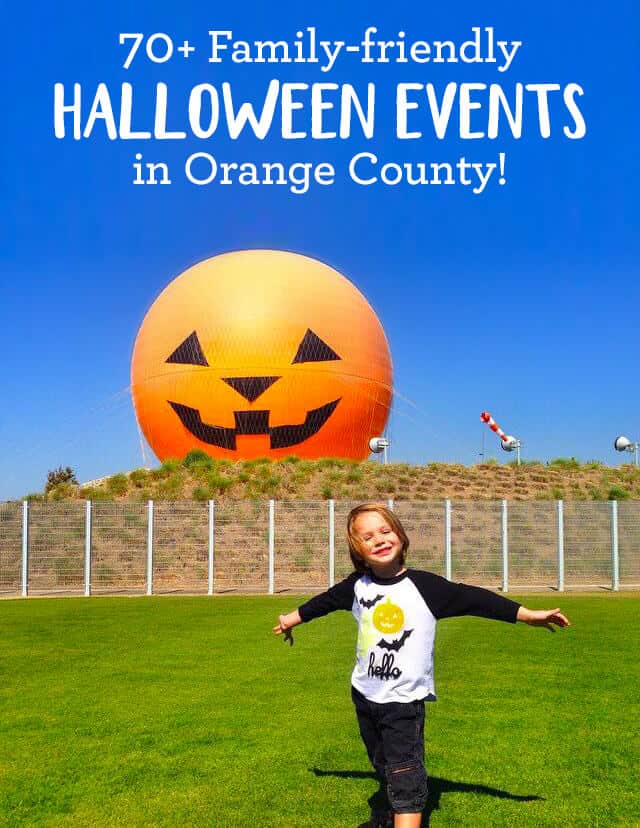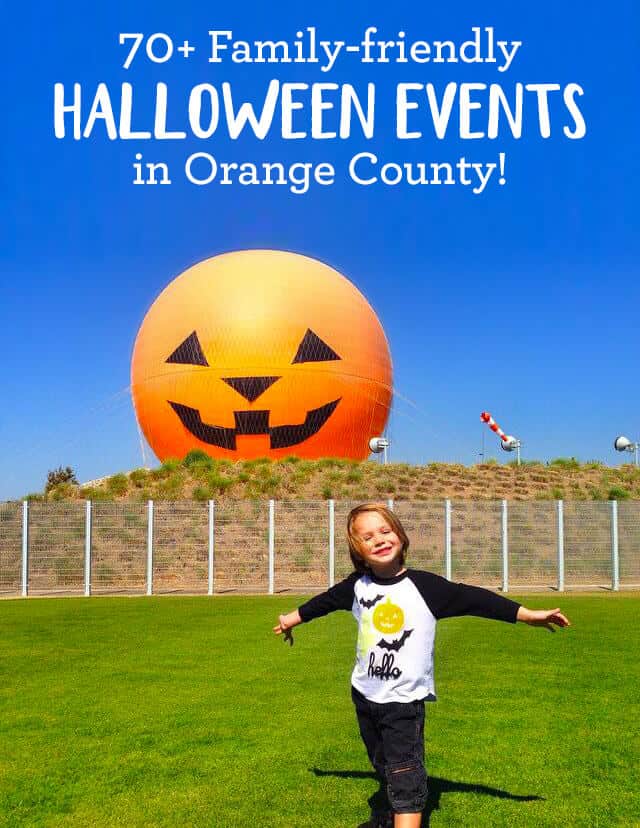 and just like that, the Halloween season is about to arrive in Orange County! soon, fun Halloween events will be popping up all over Southern California. i have compiled a list of over 70 Orange County Halloween events for Kids and Families…most of which are kid-friendly or family-friendly. and all of them are scheduled around the OC and SoCal this Halloween season.
it's time to get your calendar out and pick out the ones that look like the most fun for your family. i love to make the Halloween time extra special for my family, and taking them to a couple fun Halloween events, make the Halloween season one will always remember! (be sure to check back here, as more events will be added to the list as they are announced.)
2018 Orange County Halloween Events for Kids and Families
Knott's Spooky Farm
Every Weekend in October | Camp Snoopy and Ghost Town at Knott's
this daytime, non-scare event is a celebration of cheer rather than fear! you can enjoy shows, activities and of course, trick or treating. kids can take part in the "Monster Dance Party and Costume Parade," sing and dance along with the Peanuts gang as you watch the "The Monsters are Coming, Charlie Brown" in the Camp Spooky Theatre, walk through the "Spooky Hollow Maze", visit the Creepy Crawler Cabin, have fun in Ghost Town Trick or Treating and join Snoopy's Costume Contest and Dance Party. click here to go directly to the Knott's website.
Mickey's Halloween Party
September 19, 22, 24, 26 & 28, October 2, 5, 9, 12, 16, 19, 23, 26, 29 & 31 | Disneyland Resort
Party with Mickey Mouse in Disneyland and Disney's California Adventure, go trick or treating & watch the spectacular Halloween Screams Firework Show. Guests of the party get to enter Disneyland 3 hours before the party to enjoy the park!
Halloween Time at Disneyland
September 7th – October 31st | Disneyland Resort
Disneyland Resort and Disney's California Adventure are dressed up for Halloween! Check out the decorations and enjoy special Halloween activities throughout the park.
Pumpkin Nights
October 12 – November 4 | 5:00 – 10:00pm | Pomona Fairplex
In 2016, a team of passionate artists set out to create a brand-new Halloween experience. At Pumpkin Nights, visitors journey through eight different themed lands, all crafted using over 3,000 hand-carved real and synthetic pumpkins. Now, for the first time ever, we're bringing the Pumpkin Nights experience to Los Angeles! To learn more about what's in store, check out their website.
Fall Fest
October 31 | 6 – 9:00pm | Compass Bible Church
Kettle Corn, Churros, Tons of Candy, Coffee, Laser Tag, Pony Rides, Rock Climbing Wall, Giant Ferris Wheel, lots of Game Booths, BBQ'd Hot Dogs & In & Out. The event is free, along with rides, games and candy. There will be small charge for food, so please bring cash (credit cards will be accepted with a small add'l charge). FREE
Spooky Science at Discovery Science Center
Weekends in October | Discovery Science Center OC
Giant bugs, creepy crawlers and friendly spooks are all making their way to Discovery Cube for Spooky Science this October. Join us as we explore bugs of all colors and sizes among over-sized exhibit sets and hands-on learning stations. Even the youngest of goblins will enjoy spooky fun while exploring insects like never before.
Boo at the Zoo
October 20, 21, 27 & 28 | 5:30 – 8:00pm | Santa Ana Zoo
A "Merry not Scary" family friendly event where everyone is encouraged to come in costume! One of the safest places for children (ages 2-12) to trick-or-treat for Halloween enjoying goodies from TEN Trick-or-Treat Stations throughout the Zoo providing a variety of toys, books, snacks, and candy on the Trick-or-Treat Trail, Entertainment, Animal Presentations, Storytelling, Costume Parade, Ride the "Boofari" Express Train and Carrousel for an additional fee and "Teen Scream" Haunted House (a separate area, included in the price of admission)
Cryptozoology Night at the Zoo
September 29 | 6:30 – 9:30pm | Santa Ana Zoo
As the sun goes down and the nocturnal animals stir, other animals begin to rise. Join Charles Spratley, Haunted OC guide and lecturer as he leads you to discover and discuss some of the most famous examples of Cryptozoology. From Sasquatch and Yeti to the Chupacabra and others. We will cover their origins, first sightings and possible scientific explanations for these unique and elusive creatures. After the outdoor presentation in the amphitheater, guests will break into smaller groups and experience a night time walk-through of the zoo and Amazon's Edge Rainforest and perhaps catch a glimpse of some of it's nocturnal residents who prefer to come out after dark.
Bootastic Halloween Party
October 19 & 26 | 5:30pm | Adventure City
Halloween Time is right around the corner and for two Friday nights only Oct.19 & 26th, Adventure City is hosting a family-friendly Halloween Bash! To ensure that ride wait times are at a minimum, limited special event ticket quantities are available. Buy online today!
Pretend City Trick Or Treat Through The City
October 31 | Pretend City Children's Museum
Pirates, Ghosts, & Princesses Pretty! Come Trick-Or-Treating at Pretend City! On Halloween, we are having a special trick-or-treat extravaganza for all our friends! Stop by the museum and take part in our Halloween Bug Bash as well as trick-or-treat at different stations through the city! We will surely have a ghouly good time!
Costume Week at Pretend City
October 21 – 27 | Pretend City Children's Museum
Black cats and witch's brew, we want to dress up with you! Wear your costume to Pretend City this whole week and receive 25% off your second admission!
Healthy Halloween at Pretend City
October 30 | Pretend City Children's Museum
Happy Healthy Halloween! This time of year brings lots of treats and sweets into kids' lives that may make them fall into a junk food funk. Serving Kids Hope is joining us at Pretend City to share fun tips and tricks to keep your kids eating healthy this Halloween!
Pageant of the Monsters
October 26, 27, 28, 31 | 6 – 9:30pm | Laguna Festival of Arts
This Halloween the Festival of Arts and Pageant of the Masters brings a monster of a good time to Laguna Beach! Only returning every five years, the Pageant of the Monsters offers families a frightfully fun time filled with ghoulish tricks and treats. The Pageant's backstage is transformed into a haunted house themed RAIDERS OF THE LOST ART where guests can follow along on a perilous quest to recover treasures from exotic locales across the globe. The Festival of Arts grounds will be filled with Halloween-themed arts and crafts, a reptile zoo, music, and other "spook-tacular" surprises! Admission is $15 in advance, $20 at the door; children 12 and under $10. This event is not recommended for children under 5 years of age.
Creepy Casa Haunted House
October 27, 28, 31 | 7 – 9:00pm | Casa Romantica – Have you ever wondered if Casa Romantica is haunted? Yes, it is! CASA CREEPY: HAUNTED HOUSE is one of the most fun and unique haunted houses for families in south Orange County. Encounter ghosts, mummies, and creepy-crawly surprises around every corner during spooky tours of our historic 1927 home. Period films such as Nosferatu and vintage-themed special effects will 'reel' in the whole family, and candy and refreshments will be available. $12 general adult admission, $7 for ages 12 and under
Frankenstein Friday!
October 26 | Pretend City Children's Museum
Have a monster of a time at Pretend City and pay tribute to Mary Shelley's classic fictional character, Frankenstein with these monstrously fun activities. We will be dancing to the Monster Mash, making Frankenprints, and doing some Monster Science and Math Activities. Let's have a monster of a time!
The OC Ghostbusters Come to Pretend City
October 27 | Pretend City Children's Museum
The OC Ghostbusters are coming to Pretend City! If you're unafraid of ghost and into the Ghostbuster's Movie, put down that phone and get down to Pretend City today for some spooktacular activities!
Fall Festival Fun!
September 22 | Pretend City Children's Museum
FALL into this season as the leaves change colors and the weather gets colder! This season brings lots of exciting things for families, including holidays, fall themed foods, and maybe some family traditions in the making! Pretend City is celebrating Fall with our Fall Festival Day! Join us as we create art, play games, and do activities all focusing on fall, leaves, pumpkins, and gourds!
Tanaka Farms Pumpkin Patch & U-Pick Tours
September 29 – October 31 | Tanaka Farms, Irvine
Tanaka Farms invites you to visit our Pumpkin Patch with all your favorites as well as some new and improved guest experiences for 2018. Check back often as we will post updates about our Pumpkin Patch here!
Historic Yorba Cemetery Tour
October 6 | 11:00am – noon | Woodgate Park, Yorba Linda
enjoy a guided tour through Orange County's oldest private cemetery. FREE
Knott's Scary Farm
September 20 – October 31 | Knott's Berry Farm
be prepare to get SCARED!!!! this event is definitely not for the kiddies. send your teenagers or make a date night at this frightfully scary night of terror. you can go through the monster mazes, watch the traditional Hanging Show, and be sure to try out the new interactive Trapped Maze. a pre-show buffet is offered at an additional price.
Aliso Viejo Fall Harvest Festival
October 20 | 10:00am – noon | Grand Park, Aliso Viejo
Children's Crafts, Carnival Games, Balloon Twisters, DJ Entertainment and more! Wear your costume as you walk through the costume parade. Parade begins at 10:30 am. AVCA will also be hosting a Canned Food Drive with South County Outreach. Bring FIVE (or more) canned food items, pet food or make a donation and your child receives a wristband for a pony ride. The only way for your child to ride a pony this year is to donate and receive a wristband! Canned food will be collected and distributed by South County Outreach to those in need here in Orange County. FREE
Halloween Animal Art – Toddler Program
October 2, 10, 12, 18 & 31 | 10:15 a.m. | OC Zoo, Irvine Regional Park, Orange
Come learn about creatures that are associated with Halloween! Class includes hands-on learning, fun crafts, and meeting zoo animals up close! Ages: 3-4 years old only. Parent must accompany child for duration of program. Fee: $5 per child (includes one adult). Parking fee: $3 Registration is required! Call 714-973-6846 to register.
Halloween Animal Art for Ages 5-10
October 13 | 10:15 a.m. | OC Zoo, Irvine Regional Park, Orange
Come learn about creatures that are associated with Halloween! Class includes hands-on learning, fun crafts, and meeting zoo animals up close! Ages: 5-10 years old only. Parent must accompany child for duration of program. Fee: $5 per child (includes one adult). Parking fee: $3 Registration is required! Call 714-973-6846 to register.
Spooky Halloween Train
October 20 | 9:00am – noon | Fullerton Train Museum
Calling all trick-or-treaters! The Spooky Halloween Train is back! Come and visit us in your best Halloween costume and enjoy trick-or-treating, games, photo ops, and a special spooky surprise or two! The event is free and open to all ages! Donations are appreciated. As a non-profit organization, the Fullerton Train Museum relies on donations for our special events. We could not bring these free events to the public without the generosity of our visitors. Thank you.
Halloween Zoo-tacular
October 27 | 10:00am – 4:00pm | OC Zoo, Irvine Regional Park, Orange
Join us for Halloween fun at the OC Zoo! Activities include trick-or-treating*, spooky kids crafts, a scavenger hnt*, and fun games! (*children ages 12 & under). The first 100 children (ages 12 & under) in costume will receive a free gift! Come see the zoo animals receive treat-filled pumpkins throughout the day! Reservations are not needed. Activities are free with paid zoo admission